Reviewer
Reviewer - HTML Theme for Entertainment Reviews. Perfect theme for your Movie Review, Music Review using HTML. Download Reviewer Templa…
Read more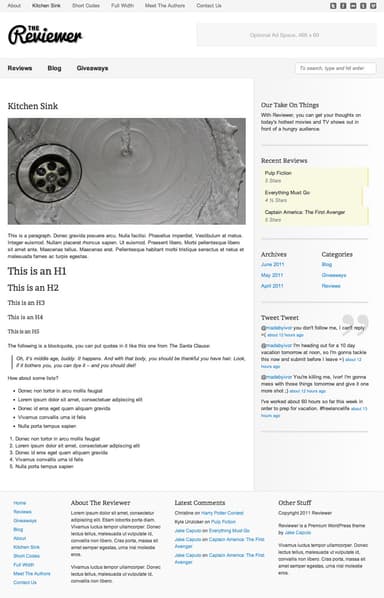 Easy Digital Download framework integration
Thanks for making this theme easy to use with the framework. I used another EDD theme and it didn't have a framework so I had to figure…
Read More
by Godserv
Code Quality
Problem! Simply upload your product images to their post and Stocky will that product's page. automatically generate a gallery on that…
Read More
by berlinetta
Reviewer - HTML Template for Entertainment Reviews
Reviewer is a theme built for one purpose: writing reviews. Whether it's reviews for movies or TV shows, Reviewer can handle it. All the files in the Reviewer HTML package are PHP to easily let you include the header, sidebar, and footer files.
Features
Five background pattern options with two color combos, light & dark

Five Star Rating colors

7 page type templates

"Featured Posts" on home page with jQuery hovers

Two layout options for the content and sidebar

Two sidebar styles

Social Network Icons

Working PHP contact form

Easy to follow documentation

Valid XHTML
Changelog
1.2: Removed the Twitter widget

1.1: Big fix for IE issues.

1.0.1: CSS fix for the star ratings.

1.0: Initial ThemeForest release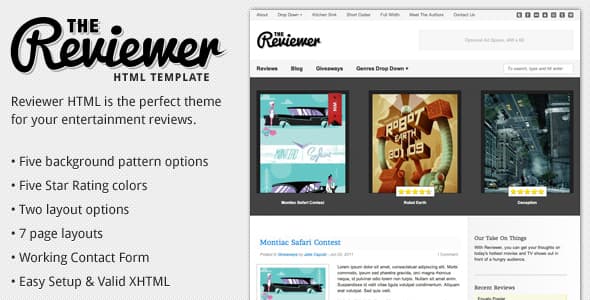 Band :
Offer :
Category :
Download URL :
Platform :
Type :
Reviewer
$10
Reviews
Themeforest
html
WebApp
Believability at the core
As a remote team of independent thinkers, we share the same values that make things work like a charm.
Technology we use
Generator
SSG can work with any data source — pull content and create pages with one line of code.
Build With
Write your app fast and future-proof with React. Jumpstart your project without the hassle of setting up an asset pipeline.