Memoir
Memoir Tumblr Theme. Perfect theme for your Tumblr using WP. Download Memoir Template Memoir is a Premium Tumblr Theme that boasts awe…
Read more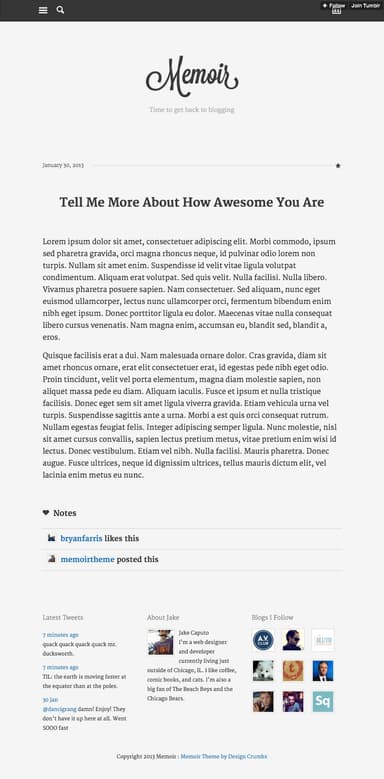 Easy Digital Download framework integration
Thanks for making this theme easy to use with the framework. I used another EDD theme and it didn't have a framework so I had to figure…
Read More
by Godserv
Code Quality
Problem! Simply upload your product images to their post and Stocky will that product's page. automatically generate a gallery on that…
Read More
by berlinetta
Memoir Tumblr Theme
Memoir Premium Tumblr Theme

Clean Typography Blogging and Retina Ready

Template for Tumblr Blog Platform
Memoir Tumblr Theme
Memoir is a Premium Tumblr Theme that boasts awesome typography. Let's face it, it's time to get back to blogging and Memoir is ready to do that. Plus, it's also responsive and Retina Display ready. When reading on your iPad, posts in Memoir Tumblr look like a native app. Absolutely stunning.
Features
All Tumblr Post Types Supported

Responsive & Retina Display Ready – Try the demo on your iPad!

Twitter Feed Widget

Responsive Footer (2 or 3 widgets)

Blogs I Follow Widget

Disqus Comments

Social Media Icons

Easy setup with easy to follow instructions.

Valid XHTML
Changelog
1.0.4: CSS updates for the search box and JS updates for mobile menu

1.0.3: New Twitter widget and instructions

1.0.2: Added Stripes Toggle, Dark Scheme, "caption" class for images, and moved the Tumblr controls

1.0.1: Minor fixes and additions

1.0: Initial release
Believability at the core
As a remote team of independent thinkers, we share the same values that make things work like a charm.
Generator
SSG can work with any data source — pull content and create pages with one line of code.
Build With
Write your app fast and future-proof with React. Jumpstart your project without the hassle of setting up an asset pipeline.