Daily Dose
Daily Dose - Automatic Changing HTML Template. Perfect theme for your Blog using HTML. Download Daily Dose Template Daily Dose - Autom…
Read more
Easy Digital Download framework integration
Thanks for making this theme easy to use with the framework. I used another EDD theme and it didn't have a framework so I had to figure…
Read More
by Godserv
Code Quality
Problem! Simply upload your product images to their post and Stocky will that product's page. automatically generate a gallery on that…
Read More
by berlinetta
Daily Dose - Automatic Changing HTML Template
What Is It?
Well it's simple. You can preset a list of anything, and then it'll automatically change each day. Or you could just as easily change it up to be blocks of time; weekly or even monthly. And on top of that, you can list a preview of what's upcoming on the bottom of the page.
What Can I Use It For?
Whatever you want! How about a sale a day? A daily to do list? An activity a day? The possibilities are literally endless. The file comes with a set of 3 arrays for each day, title, photo, and description. If you want to add more, it's as simple as copy and paste.
XML lets you set your options including start date, end date, and time zone.

Fully automated. Set the configuration options and the content and let'r rip!

The list on the bottom automatically fills itself out and balances itself evenly between the columns, no matter how many days you have.

After a day has passed, it will be struck out on the list.

Messages are displayed if somebody visits prior to your first day or after your last.

jQuery enhanced! Built in drawer lets you put more content onto the page than you want to show. After all, if it's only one page, your users are there for a reason.

Plenty of layout options if you need to add more pages or more into the drawer.

Easy to change out content both in the XML and index.php. There are a lot of files included in this template, but they're just running things smoothly. You really only need to change content in two (maybe three if you're adventurous).

Seven background pattern options.

Easy setup with easy to follow instructions.

Valid XHTML
Changelog
1.1.1: Fixed an issue causing the template not to display properly in IE

1.1: Added International Version

1.0 : Initial ThemeForest release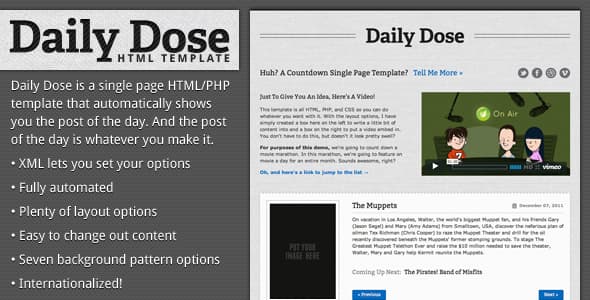 Band :
Product-Name :
Offer :
Category :
Download URL :
Platform :
Type :
SCube Theme
Daily Dose
$7
Animal Shelter
Themeforest
html
WebApp
Believability at the core
As a remote team of independent thinkers, we share the same values that make things work like a charm.
Technology we use
Generator
SSG can work with any data source — pull content and create pages with one line of code.
Build With
Write your app fast and future-proof with React. Jumpstart your project without the hassle of setting up an asset pipeline.